« Back to all Posts
Get Your Concept Trans Am Merchandise for Christmas!
posted in: kevinmorgandesigns garage, news on December 10, 2008 at 10:31 AM

Shop on Kevin Morgan Designs for that Trans Am Fan!!!
Here are the latest concept Trans Am products from Kevin Morgan Designs.
Bring It Back T-shirt – Black with Gold ink

Kevin Morgan Bring It Back Garage Banner

Kevin Morgan Round the County DVD

Bring It Back Decal

Bring It Back Poster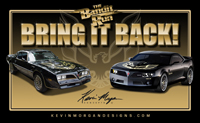 Bring It Back Bumper Sticker

Kevin Morgan Signature / Concept Trans Am T-shirt & Girly shirt

Concept Trans Am R/C Car Powerslide Poster

Concept Trans Am R/C Car Powerslide Decal

Concept Trans Am Convertible Bringing Back The Fire Decal

To purchase these items, please visit my website at KevinMorganDesigns.com
Thank You Everyone for your support!
Kevin Morgan – Graphic Designer
www.kevinmorgandesigns.com
There are some new and exciting things brewing at KMD…check back often for more details.
Comments
Leave a Comment